LAYING BARE: CANDIDATES' FASHION SENSIBILITIES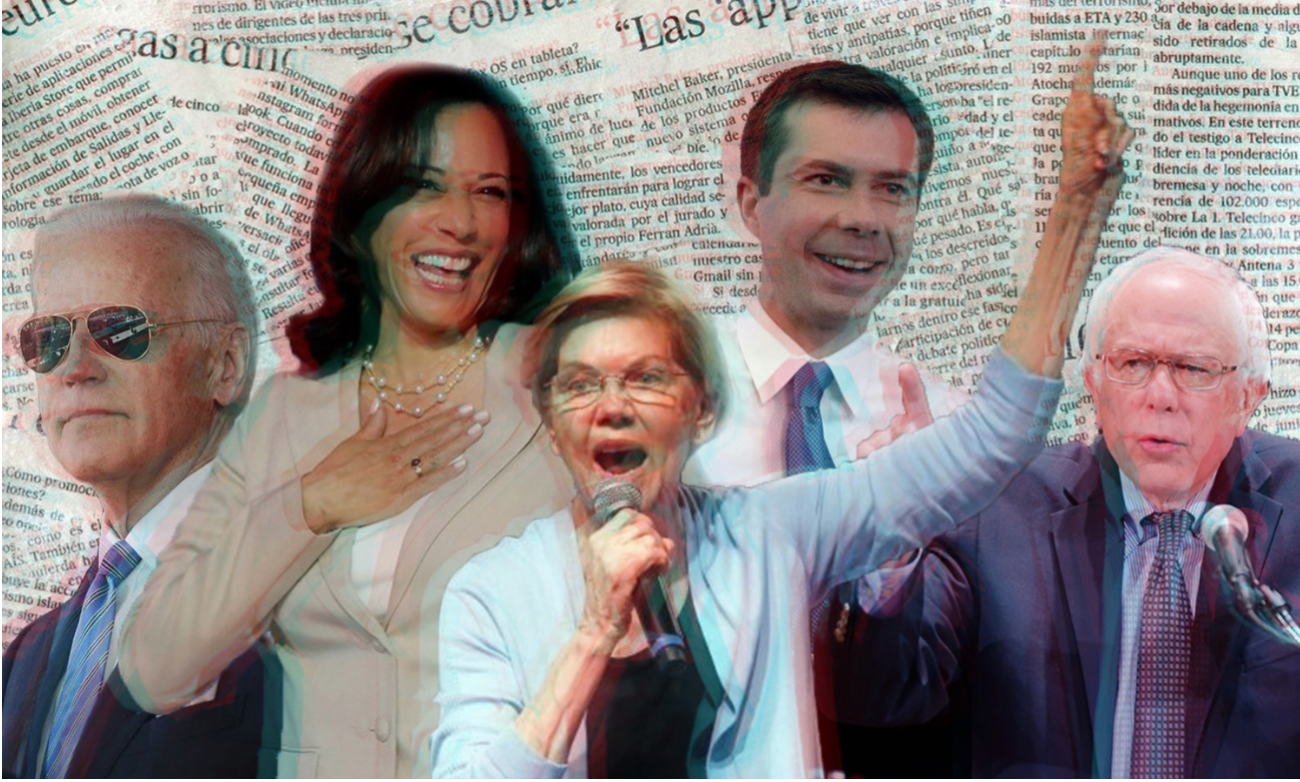 RJ McIntyre
16 July 2019

On a trip to McAllen, Texas to visit young children detained at the US border, First Lady Melania Trump stepped off the plane sporting an army green jacket with large, white print that read: "I really don't care. Do u?" Melania's question was promptly answered. Not only did Americans care, but they were outraged. If the jacket was worn intentionally, how could a first lady be so disrespectful and cold-hearted? If not, how could she be so cavalier? In a CNN interview, Melania clarified that the interrogative statement on the jacket exclusively targeted the "left wing media" rather than the immigrant children who had been separated from their parents. Many Americans rejected this explanation. This was not the first nor last sartorial gaffe of the Trump era.

Many Americans may never excuse Melania's quasi-colonialist costumes throughout her 2018 tour of Africa. The first lady luxuriously caravaned across the continent wearing beige suits, button-down dress shirts and various pith helmets – a low-brim hat worn by western colonizers of Africa and India. Soon after, President Trump's misplaced fashion sensibilities made headlines during his state visit to the United Kingdom. At a State Banquet with Queen Elizabeth II, Trump arrived in a comically long vest under his tuxedo jacket. America will surely never forget the infamously obscene MAGA hat. Initially a brazen symbol of Trump support, the MAGA hat has transformed into a symbol of yearning for the America of some distant past. For those stuck in the umbra of pre-Civil Rights America, Trump is their guiding light and the MAGA hat is their acolytic trademark. Despite these misfortunes, as dozens of Democratic hopefuls launch their campaigns, the Trump era just may be transitory.

In a viral YouTube video, Robert Reich of the University of California, Berkeley imagines the candidate needed to beat Trump in the 2020 presidential election. Ultimately, Reich concludes that a candidate capable of winning over the American people and beating Trump would need to be the antithesis of Trump. The auspicious candidate will be consistent, forthright, and poised.

Mayor Pete Buttigieg comes to mind. Like in his command of language(s), Buttigieg's style choices are unwavering. The 37-year-old South Bend mayor usually wears dark blue dress pants and a starch white shirt, typically leaving the jacket at home. To match, Buttigieg consistently dons a blue tie, usually of the midnight, navy or Carolina variety. Buttigieg's style consistency reflects his academic prowess, service in the US Army and loyalty to the people of Indiana; for some, he is the perfect solution to the tumult of the Trump era. But to others, the fresh-faced Buttigieg appears sophomoric sans suit jacket. However, his allegiance to tailored dress pants, shirt and tie appeal to more tradition-loving, rule-conscious voters.

Additionally, the messy-haired democratic-socialist Bernie Sanders has exuberantly returned to the spotlight. Unintentionally, Sander's style aligns closely with a retrospective trend currently popular among Millennials and Gen Z-ers commonly referred to as "normcore." It's a style that divorces the sexy and modern and celebrates the pedestrian and dowdy. Despite repeatedly explaining the unfortunate limitations of his fashion sensibilities, Sanders consistently opts for the popular oversized puffer jacket, chunky sneakers, wide legged pants, and crumpled and creased dress shirts. Although fashion-forward Americans insist that Sanders take credit for his fashion successes, doing so would ruin his charm. It is precisely the unintended, unaware element of Sanders' style and idiosyncrasies that make him likeable to so many. Sanders' signature revolutionary verve and unkempt hair are what make him the mad scientist that left-wing college students love to love.

Elizabeth Warren has steered clear of the brutally unfair fashion criticism faced by female candidates. Typically, the Massachusetts senator wears black pants, a black top and a colorful blazer or cardigan. Unlike previous Democratic candidate Hillary Clinton, Warren chooses a more muted color pallet and avoids matching suits. Avoiding Clinton's fashion choices is undoubtedly a good strategy. At an initial campaign rally in Long Island City, Warren announced her broadcast argument: purging America of institutional corruption. A comparison to Clinton would not compliment this Democratic hopeful. Warren's style choices are steadfast and modest, shying away from bold makeup and accessories. As Warren prudently reminds us, all attention should be focused on progress – and her plans, too!

Often seen with a red or blue tie, Ray Ban aviators, an undone collar and an ice cream cone, Joe Biden is all-American. But Joe's youthful proclivities do not resonate with young voters in the way Sanders' preferences do. His tailored suits and Apple Watch may indicate that he remains au courant, but his stage presence suggests otherwise. Because of his dilatory nature and low-energy, the media refers to Biden as sleepy, out-of-touch and downright over-the-hill. Despite a slow start, polls indicate most Democrats remain confident in the 76-year-old former senator and his ability to balance wisdom and experience with ingenuity and perceptiveness.

Kamala Harris is the fashionista of the Democratic candidates. Not only has the Oakland native proven her command of audience, but she evidently has a command of style, too. Unlike other candidates, Harris's fashion is timely. At the first Democratic debate, Harris spoke vehemently in a near midnight blue suit. The senator was all business that evening. However, while campaigning in Iowa over Independence Day, Harris contrasted classic light wash blue jeans with a contemporary, sharp blouse. Like her political voice, Harris' style is conscientious, but fearless and forward-thinking, too. For San Francisco Pride, the California senator was seen celebrating in an oversized Levi's denim jacket bedazzled with countless rainbow beads. Like her Independence Day attire, her Pride regalia was a considerate nod to American tradition with a daring twist. Although Biden is still believed to be the frontrunner of the Democratic Party, Harris and her unapologetic style are gaining traction among old and young voters alike.

Although Trump's approval rating is at a career high, many Americans remain outraged. With a wide field of Democratic candidates, voters will surely gravitate towards a strong leader as the 2020 Democratic presidential primaries approach. Although American politics remain plagued with dismay and disarray, the many Democratic candidates and their sensibilities reflect a potential new era of consistency, decency and inspiration for our country.