WELCOME TO ALESSANDRO MICHELE'S FASHION REVOLUTION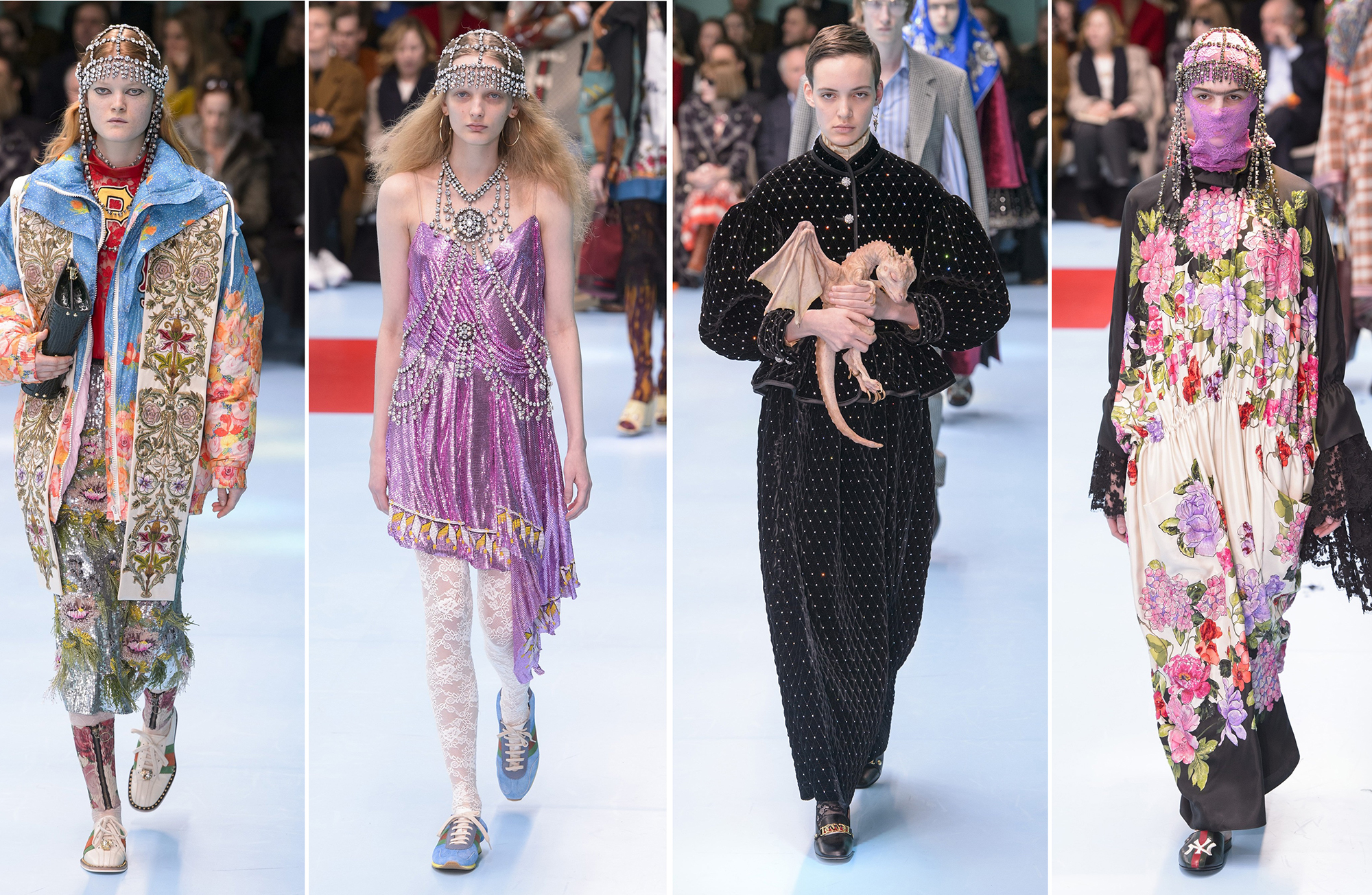 R.J. McIntyre
16 April 2019
Gucci gang, Gucci gang, Gucci gang, Gucci gang.

The refrain of Lil Pump's triple platinum song from his self-titled album is a famous reminder of the enormous popularity and powerful influence of Gucci. Founded in 1921 by Florentine Guccio Gucci, the fashion house originally specialized in leather baggage and saddlery. During the past decade, Gucci has exploded, expanding from a quaint family-owned boutique in Florence to an international fashion powerhouse and an enduring cultural force. Gucci has been led by fashion geniuses including Tom Ford and Frida Giannini. However, of all the fashion pioneers at the helm of Gucci, Alessandro Michele has had an impact like no other. Without hesitation, he has broken stringent fashion rules and glorified industry faux-pas —and he wants us to join him.

After the silky, sultry, and sensual Tom Ford era, Gucci slowed down. Ford's successor, Giannini, opted for a more understated, neat look. Since his hiring in 2015, Michele has not just resuscitated the brand, but he has electrified it.

Michele is a maximalist and a fashion anarchist. In a single collection, the designer draws on cultural elements separated by space and time. In both menswear and womenswear, Michele has combined Wes Anderson 70's mania, the glam metal and playful prints of the '80s, the youthful grunge of the '90s, the audacious femininity of the early 2000s, and signature European Renaissance over-embellishment. Michele's designs feature modern references spanning coast to coast, from the San Francisco Giants and Chateau Marmont to the New York Yankees and Dapper Dan. Michele's collections are also genderless. Menswear boasts blouses, bodysuits, floral prints and frill. Womenswear Gucci includes coats, cravats and collared shirts.

Although the mixing of logos and symbols was excluded from Gucci's recent Fall 2019 read-to-wear show, the collection was extravagantly bizarre. In one look, a male model sported chunky 70's trainers with oversized dress pants. Tucked into the dress pants was a floral blouse with lace cutouts and a baroque collar. To accessorize the look, the model wore chrome nails and a Jason Voorhees fetish mask with 2-inch-long spikes. Such an ostentatious combination of styles from multiple eras is nonpareil in the fashion industry. To many, wearing a delicate blouse with awkward sneakers and a devious mask would be a disastrous. For Michele, it's just right.

Gucci's impact on the fashion industry is undeniable. Brands recognize Michele's success and are not afraid to imitate his designs. Soon after Gucci released jacquard sweaters featuring retro animal mascots, Ralph Lauren followed suit. In fact, several items included in Ralph Lauren's 50th Anniversary collection, a supposed commemoration of the designer's unparalleled impact on American fashion, were strikingly similar to Michele's designs.

Following Gucci's extravagant celebration of over-embellishment on the runway and in advertisements, Dolce and Gabbana did the same. Fast fashion brands, namely Zara and ASOS, have been inspired by the originality of Gucci's mixed aesthetic and have manufactured countless similar pieces.

Alessandro's Gucci has resonated so profoundly because it is exactly what we need. In a time when society is plagued by malignant rhetoric and vicious invective, Michele champions multi-culturalism, a symphonic uniting of symbols, styles and references. Michele is all about irreverence. Through his designs, the fashion leader encourages us to forget – even reject – our previous notions of fashion rules and traditions. Particularly, as society's conception of gender becomes broader, so too has Gucci's designs for both men and women.

Michele's vision is sincere. In an interview with Frank Bruni for The New York Times Style Magazine, Michele reveals that the dramatic shift in Gucci's aesthetic was a reflection of society. Following Laverne Cox and Caitlyn Jenner's magazine debuts, the case of Obergefell v. Hodges, and the broadening of the LGBT community, Michele's all-embracing genderless style was a natural progression.

Not only is Gucci a cultural response to political issues, but Gucci satisfies Generation Z's insatiable appetite for social media consumption and curation. On its Instagram, Gucci often displays clothes in a shockingly unusual context. In one advertisement, a curious monkey paws New York Yankees wallets displayed on an overturned raft. In another post, a young female model wearing an over-sized fuchsia suit drags her boyfriend (who's wearing a silk dress) off a mock Hollywood red carpet. Michele ensures that there is something for each of the brand's 35 million Instagram followers.

Celebrities are an essential part of Michele's world, too. In 2016, Michele designed many of the outfits for Beyoncé's Formation music video and her world tour. More recently, Lana Del Rey stares in the reimaged Gucci Guilty campaign. In the campaign video, Del Rey is seen doing chores alongside co-star Jared Leto. In the grocery store and at laundromat in full Gucci regalia, Lana and Jared go about their day in the company of tigers and ostriches. When asked about her role in the eccentric campaign, Del Rey stated, "I was just thinking of a woman who was really fun and really free, and really in love."

During his first several years at Gucci, Alessandro Michele has forever impacted the trajectory of the fashion industry. The brand has been transformed from a historical icon of the past to a trailblazing cultural phenomenon. Michele's maximalism and unapologetic refusal of rules has liberated all of us to create and wear whatever we see fit so that we can all be really fun, really free and really in love.