THE COMPLICATED LEGACY OF LAGERFELD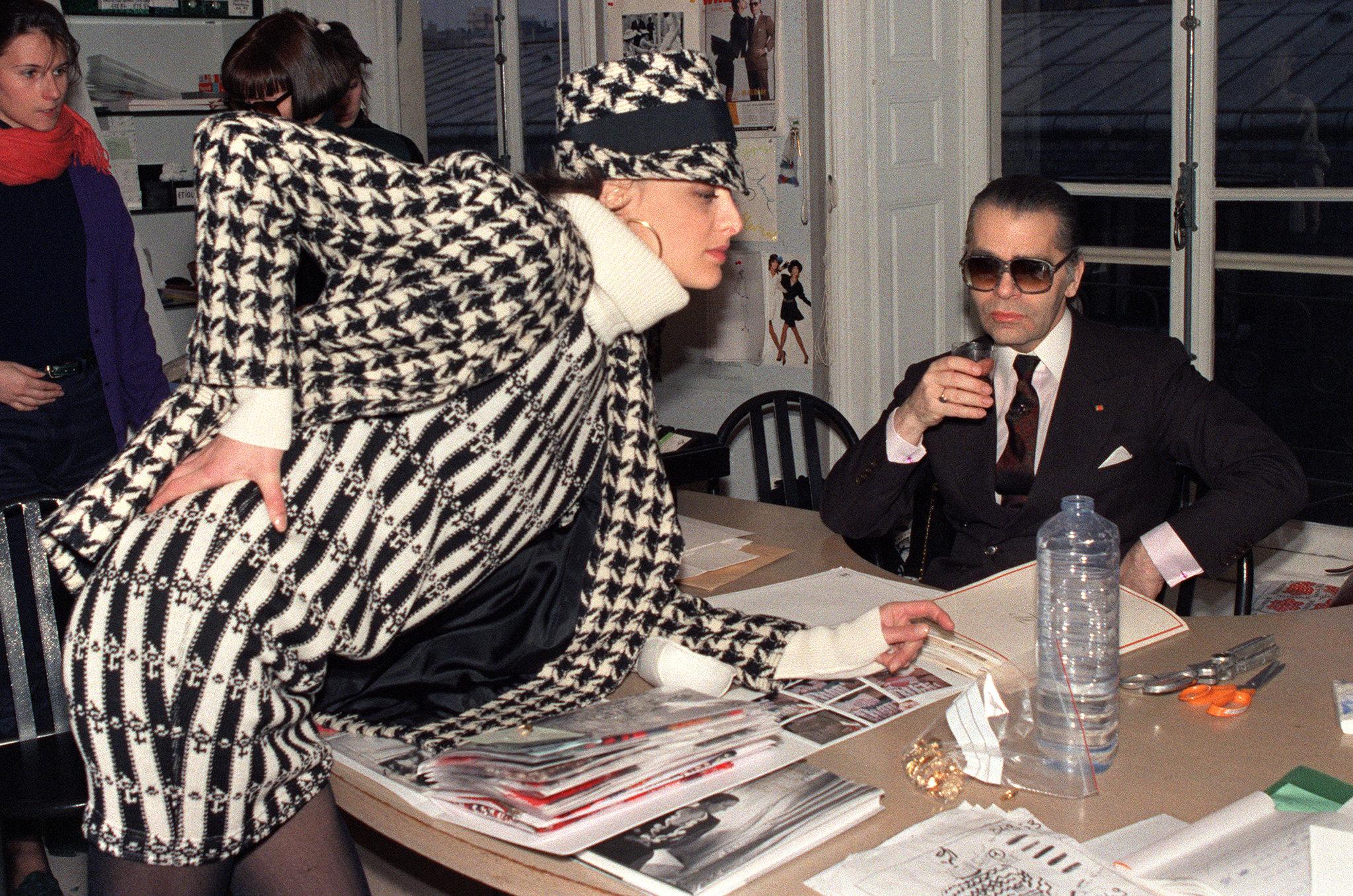 Josh Perkins
23 February 2019
Out they came, one by one, dripping in tweed or lace or chiffon, or all three at once. Some accented with feathers, some with hand-painted sequins, or flowers dipped in resin. Pinks and creams and navies, mints and periwinkles and ceruleans. And black, of course, but not a harsh black, a soft black if there is any such thing, a black that's easy on the eyes. Their hair swept up into tall pillars as if left in a wind tunnel three seconds too long. Their eyes outlined in black. Their lips painted in red.
And as they walked down a curved set of stairs and past a pool of crystal water, you wouldn't have to know anything else to know where you were. This was Chanel and these were Chanel women.
It was snowing in Paris on January 22 during Chanel's Spring 2019 couture show, but you wouldn't know it. Inside the Grand Palais, the scene was pure Italian summer. Karl Lagerfeld, Chanel's creative director since 1983, built an entire villa complete with terra cotta urns, oleander bushes and palm trees that dangled their fronds above everyone's heads.
It was meticulously crafted and excessively lavish, but then again Lagerfeld always had a penchant for elaborate sets. There was the time he launched a rocket, and the time he built a fake beach in the middle of Paris with fully functional waves. Then, there was the time he shipped in icebergs from Sweden and then shipped them back afterward because, presumably, only real icebergs would do. There was the grocery store, the enchanted forest, the airline, the waterfall, the 60-foot gold lion statue and the recreation of Marie Antoinette's farm. He had a particular love for the Grand Palais because it is one of the only venues in Paris large enough to accommodate his imagination. His sets were less artistic statements than monuments to spectacle itself and they seemed to grow bigger and more complicated each season.
Then, out came the last look at his Italian villa: a swimsuit beaded and stoned with a train that flowed from a swim cap. It was as if Aphrodite visited the pool at the Beverly Hills Hotel. Its craftsmanship was unparalleled but Lagerfeld wasn't there to see it. At the show's conclusion, he was supposed to give his customary bow and curt wave in his customary uniform—dark suit, oversized sunglasses, powdered white ponytail. But, according to a statement, he was too tired, so in his stead, he sent Virginie Viard, his right hand and eventual successor. With that, the rumors flew like leaflets falling from the sky. He hadn't missed one of his own shows in 30 years, plus he was 85.
In the end, the rumors were true. That was Lagerfeld's last Chanel show before he passed away about a month later on Tuesday, February 19th. In his wake, he leaves behind a complicated legacy, as complicated as the man himself, one of luxury and beauty and reinvention but also of bitter controversy.
This element of controversy begs a question: what is the correct way to mourn someone whose contributions to the fashion world are endless but whose impact was problematic? The consensus among fashionable people seems to be the following: ignore the worst and focus on the best.
Anna Wintour paid tribute to him in
VOGUE
saying, "Karl was the living soul of fashion: restless, forward-looking, and voraciously attentive to our changing culture."
Wintour and Lagerfeld were friends, tied together as stalwarts of the old fashion vanguard. They had a standing dinner date in Paris on the first Sunday of every fashion week. So, I can't necessarily blame her for ignoring the time he said, "No one wants to see curvy women on the runway." Or the time in 2013 when he called Adele fat. He later clarified that he meant to say "round" and that Adele lost some weight since he said it, possibly because he said it, so it's not such a big deal anyway and people should stop obsessing over it, thank you.
Wintour also failed to mention the time Lagerfeld critiqued the #MeToo movement in saying, "If you don't want your pants pulled about, don't become a model! Join a nunnery, there'll always be a place for you in the convent."
Those were just words and Lagerfeld was known for his crude, off-the-cuff statements. He once said wearing sweatpants was a sign you'd given up on your life. But on the runway, his remarks became more than just words, given that he refused to cast plus-sized models. As one of Europe's most important fashion houses, Chanel helped define what beautiful, successful women looked like for generations. And that image was a singularly narrow one. Pun intended.
Even as times changed and New York's runways became more diverse in age and race and body-type, Lagerfeld remained true to his convictions. Karl Lagerfeld was nothing if not consistent. According to The Fashion Spot's
seasonal diversity report
, Paris lags behind other fashion weeks, despite recent strides.
For all his faults, it can't be said that Karl Lagerfeld wasn't a genius in his own right. He won't be remembered as fashion's most controversial designer (John Galliano). Nor was he the most performative (Alexander McQueen). Not the most innovative (Iris Van Herpen) or the trendiest (Alessandro Michele). But, he was certainly the most prolific and definitely the longest-lasting (he started designing for Fendi in 1965) all because he had a certain savvy that few people possess.
He knew what to change and knew what to keep the same. He knew that you can alter the silhouette or the accessories but that a brand's mainstays are sacred. He remained uncompromisingly loyal to Chanel's signature tweed and sophisticated modesty until the bitter end.
Karl Lagerfeld knew not to chase trends. And he never did.
He knew that in a world of conspicuous consumption, a logo is priceless, so he put Chanel's interlocking "C"s everywhere then did the same with Fendi. And then every designer from Gucci to Coach copied it. He set the standard for how to revive a heritage brand. He gave Chanel its legs, legs that will carry it into the next decade and beyond.
But of all the things he knew well, he also purported to know what women should be. Thin. Sexualized. Beautiful. He was a strange caricature in his own indecipherable world, so it made some sense that he saw women as one-dimensional caricatures as well.
It should be remembered that he was a peculiar type of misogynist, one that embraced certain women with open arms and rejected others with fiery contempt. We should never forget that just because of his death even if the tears have yet to dry and the coffin has yet to be shut. If we forget we won't improve.
That has to be part of the Lagerfeld legacy as ugly as it is.