SEARCHING FOR
MEANING AT NEW YORK
MEN'S FASHION WEEK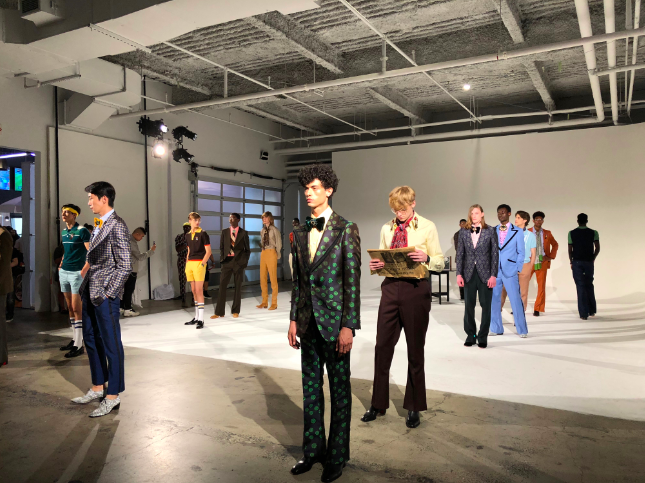 David Hart's Spring Summer 2019 Collection / photographed by Jenny Hong

Josh Perkins
31 July 2018
There were a lot of things told to me when I mentioned I was going to New York Men's Fashion Week: that it's too commercial, that it's too small, too niche, or in contradiction, too broad, too conventional. These were things repeated by people who have considerably more insider expertise than me: fashion editors, fashion students, real New Yorkers.
The consensus is always that New York fashion—men's or women's—isn't what it used to be, eclipsed by the elegant couture runways of Paris or the decadent maximalism of Milan. Men's Fashion Week is only a couple of years old and yet it is viewed with a certain disparaging fatalism.
What is the future of New York fashion?
I had a glimpse at that future, in white-walled studios and runways scattered across the city. Ostensibly, I was there to report beauty stories, tasked with looking at people's faces more than the clothing. But I found myself distracted by the latter.
Half of it was what people assured me it would be: standard, safe, unobjectionable, middle-America fare. In spite, I convinced myself that there was more to it, that there was some sort of meaning here beyond the shameless peddling of expensive clothing. Perhaps it's because I am the type of person who too often sees art where there is none.
David Hart presented on a hot, humid Monday morning inside a tall, modern, glass building on the Financial District waterfront. Wall Street was just a few blocks away. As was immediately evident, the clothes were a throwback to the 1970s. A soft wave of disco music enveloped the room. There were colored shorts and suits with matching bell-bottom trousers, knee-length white socks under Louboutin boots.
Hart was unmistakably inspired by Alessandro Michele's Gucci. He could be accused of either pastiche or unoriginality—and indeed he was many times over—but regardless, I stood transfixed. I wandered in and out, constantly returning to that room, to that particular collection. It had an energy that I wanted to relish, a hazy romanticism, an escapist nostalgia for something I never experienced.
David Hart Spring Summer 2019
Hart was not the first person to relate the contemporary period to the 70s, to mine the cultural archives for inspiration, and I'm not the first person to take notice. Both decades feature a president plagued by a major FBI investigation, who repeatedly attack media outlets, and whose racism is well documented. Not to mention, an overzealous concern with the moral degradation of society, a backlash against the advancement of civil rights and progressive issues. The list of things that make the current decade feel like the one from 40 years ago could go on, just read the opinion pages of the
New York Times
or the
Washington Post
.
Trump is very Nixonian, or maybe to be fair to Nixon, he was a just a bit Trumpian. Like Nixon, Trump often called his followers the silent majority. Even Woodward and Bernstein compared the two.
It's both a grim comparison and an optimistic one. If we are indeed reliving the 70s, that means America still has a future, that better decades are to come, it's institutions will emerge intact, things will return to a relative normal. So, was David Hart crafting a political statement and building a rosy imaginative future by referencing the past?
I couldn't tell.
Of course, there is a danger in being too backward-facing, in misappropriating history. A danger that can breed a definite complacency, a perhaps misplaced faith in the endurance of America, it's people and it's institutions.
I guess the same can be said of Fashion Week. Dwelling on what it used to be won't save it, inasmuch as it needs saving. In between shows, I saw a hat that read
Make Fashion Week Great Again:
a statement that epitomizes the unlikely common mindset between New York's elite and the white rural Americans they want nothing to do with.
I choose to think the future of fashion lies in the innovative not the nostalgic, with the young art students I saw at the CFDA's Fashion Future Graduate Showcase. The event passed with little fanfare inside a squat brick building in the West Village, it looked a bit like an upgraded and more professional science fair. The collections were small, the displays smaller, but the ideas were unmatched on the larger runways. There were coats with accordion-like structural pieces and bold fabrics and bolder prints and silhouettes that regarded traditional "menswear" loosely, taking it to new places.
So, what is the future of New York Men's Fashion Week? If there is still money to be made, and influencers to court with open bars and rooftop after-parties, and Park Avenue women who can spend thousands of dollars on coats and generic-looking handbags, then Fashion will remain a mainstay of New York's economy. How that future looks depends on whether we look backward or forward.
As I stood in front of David Hart's collection, I wondered how many of the editors, buyers, and influencers standing next to me had the same thought. Was the message wasted or was I finding meaning where there were just clothes?