Pantsuits: A Retrospective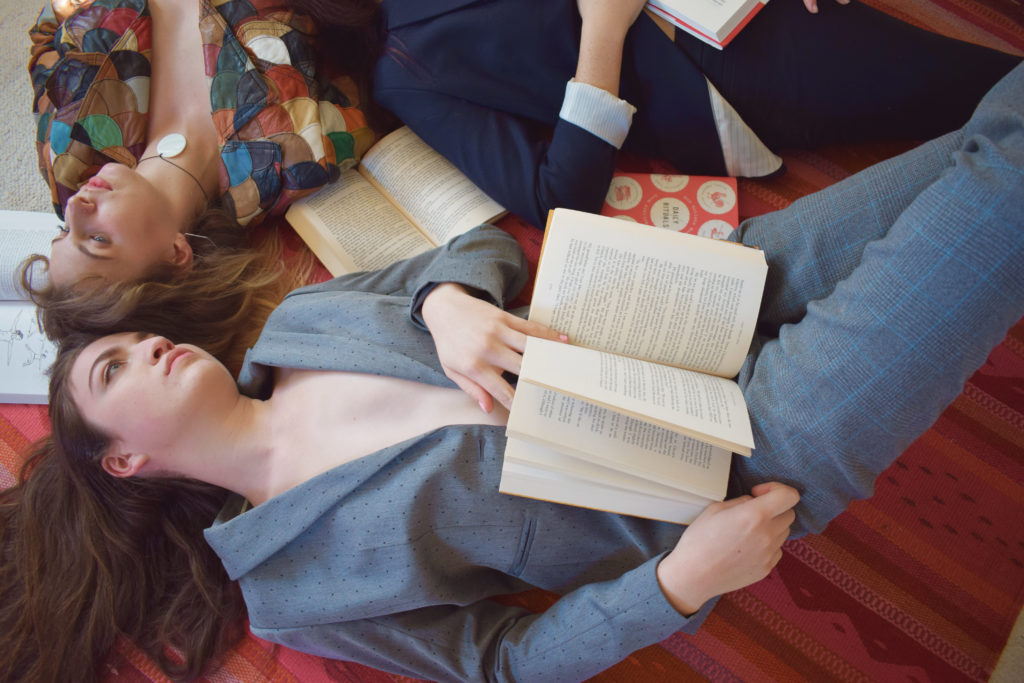 Photography by Gillian Rose
Josh Perkins
11 December 2017
On November 8th, 2016, Hillary Clinton addressed a small crowd of campaign staffers and supporters in New York City. It probably wasn't a speech she expected to give, but with poise, she formally conceded the presidential election to Donald Trump. In the speech, she urged unity and perseverance. "For now, our responsibility as citizens is to keep doing our part to build that better, stronger, fairer America we seek," she said.
Her choice of fashion was as deliberate and calculated as everything she said. She wore a black pantsuit, unmistakably the color of mourning. It was the exact opposite of the one she had worn six months earlier to accept the Democratic nomination for president, a full white ensemble. The white exuded hopefulness and in hindsight perhaps naivete to the political realities of the country.
The black, on the other hand, was a fitting color for someone who had lost dramatically on the national stage, following a campaign littered with missteps. David Remnick, for the
New Yorker,
noted "…the first woman to have a genuine chance to become President, lost to someone who had flaunted his contempt for women generally and for her personally, even prowling behind her during a nationally televised debate." So, with similar hindsight, the dark suit was a poignant choice. But Clinton accented the suit with purple—a symbolic mix of red and blue. Democrat, Republican, left, right, coastal, rural—the message was subtle but clear.
The pantsuit became near synonymous with Hillary Clinton, representing the triumphs and ills of being a woman in the public sphere. Clinton, like many women, was often judged more for her appearance and temperament than for her accomplishments. Trump's baggy suits never received the same kind of scrutiny.
A year after Clinton's historic loss, female office wear made a return to public consciousness, this time on high-fashion runways. American designers have historically shied away from overt political statements— leave that to the French—but they undoubtedly sneak them into their aesthetic choices.
The Park Avenue Armory is a warehouse-like venue, originally built in the late 19th century for the Seventh Regiment of the National Guard. Its red brick exterior gives way to a vast open room with vaulted-exposed ceilings. It was the location where Marc Jacobs unveiled his Spring 2018 collection. He left it bare. The audience, filled with high-profile guests, sat on metal folding chairs. There was no grand centerpiece, no elevated runway, the lighting was harsh and the floors were untouched. There was no music, just silence punctuated by the footsteps of a diverse group of models. The runway was so long that the models lingered, sometimes uncomfortably so, in front of the audience. A number of attendees noted that the combined effect was eerie, ominous, almost sinister.
The collection itself featured suits in bright oranges and greens, oversized pieces in plaid, wool and tweed. A dark twist on the pantsuits Clinton made famous and then perhaps infamous.
This office wear trend reflects a pivotal time for women in the workforce. A time when women are asserting themselves in the workplace, fighting the gender wage gap and entering more high-profile positions. As the revelations of the past months have proved, this is a critical moment in regards to workplace sexual harassment. And it originated at a similarly pivotal time.
"From 1890 to 1985 the participation in the workforce of women between the ages of twenty-five and forty-four soared from 15 to 71 percent," reported
The
Atlantic
. In the 80s, women were rapidly entering fields traditionally dominated by men—business management, finance and law. Pantsuits emerged to target this growing market of newly working women. A new uniform for independent cosmopolitan women. Think Sigourney Weaver and Melanie Griffith power dressing in
Working Girl
—those iconic shoulder pads, of course, and masculine cuts. It was a decade defining trend, a feminine take on clothing items previously reserved for men.
Women's office wear is a symbolic statement of female empowerment. Pantsuits have been a way for women to exist in places they previously couldn't. That symbolism faltered last November but designers are intent on bringing it back. The Marc Jacobs show didn't end with the traditional waterfall of models, instead, they all walked out at once. A bold, determined wave of women walking across the Park Avenue Armory and simultaneously asserting their presence.