A QUARANTINE CONVERSATION
WITH ROWAN O'BRYAN
Photo By: Gabriella Ricketts


Paloma Macias
1 December 2020
Rowan and I sit across from each other virtually, the only way I can safely see her. We began as middle school friends, then forged paths at two different high schools. From the beginning of our friendship, I have been a supporter of Rowan's cystic fibrosis team,
Rowan Roses
, which fundraises for the CF foundation. Like many in the digital age, Rowan and I have remained in each other's lives through the realms of social media, where you feel on one hand updated through highlights while also completely unaware of the minutiae of daily life that embodies intimacy. Through Instagram, Rowan and friends host a digital archive of music and art shows to raise awareness of cystic fibrosis. Until recently in the film
Five Feet Apart
(2019), there was little media representation of this rare condition outside of typical medical dramas. When asked about the film, Rowan said, "I found it sappy and cheesy, but also more accurate than I thought it would be!" She went on to explain that the reasoning behind the title was because two people with CF have to remain at least six feet from one another; if they are too close, they run the risk of cross infecting one another with dangerous germs and bacteria. Additionally, people with CF have an exponentially higher risk of catching a cold, the flu, and currently, Covid-19.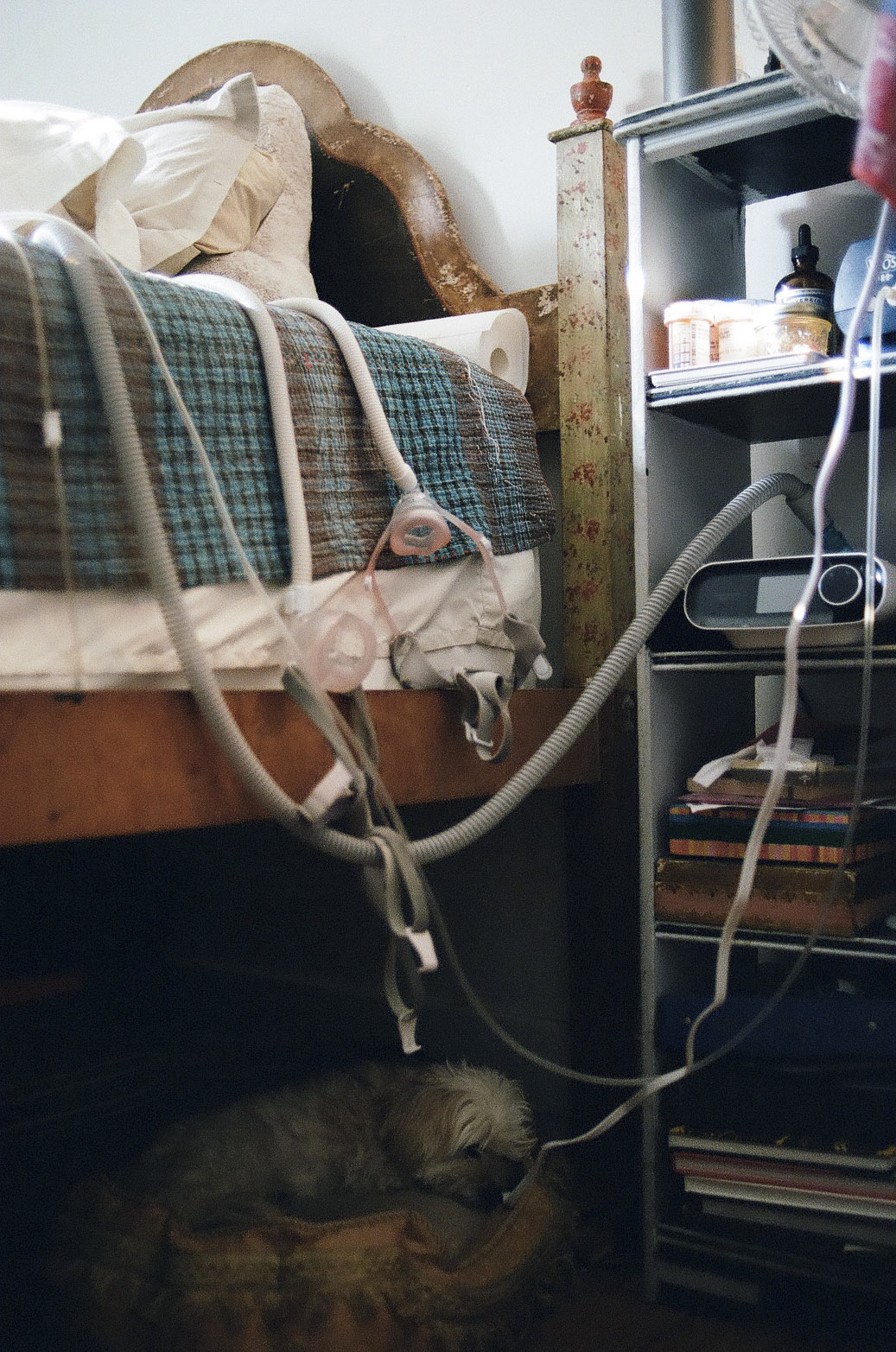 Cystic fibrosis is a genetic respiratory disease that causes a buildup of mucus in the lungs that makes breathing difficult, leading to a young death. When we were younger, Rowan would have a machine envelop her torso like a hug, then it would shake her slight frame until she spit out mucus from her lungs into a canister. That particular mechanized action was Rowan's ritual most days. Although the realities of her chronic illness were rarely apparent to the outside eye, conceptions of normalcy are able-bodied centric. Her external facade, early in life, aligned with those popular conceptions while her disability lay in the chasm of her lungs. The duality of what was seen and what was felt made Rowan a one-woman instructor for the ignorant masses. She was berated with questions from teachers and peers alike; they inquired as to why
she
got extra time– or more aggressively, why she was not "going to her fullest" in physical activities such as dance. A frequent occurrence in the Los Angeles art kid scene is Rowan having to continually ask people to stop smoking around her. Rowan is perpetually placed in the position of self-advocacy. She says that in some ways, it has become easier now that her disability is no longer invisible with people able to see her medical devices.
Rowan's oxygen tank fits naturally alongside her as her outstretched fingertips reach to adjust the camera of the laptop. The computers' framing of her face cut out the contours of her feeding tube and the oxygen tank that circulates additional air. The translucent tubes rest on her ears, delicately going into her nose; they glide with the contours of her smile as she talks about her art.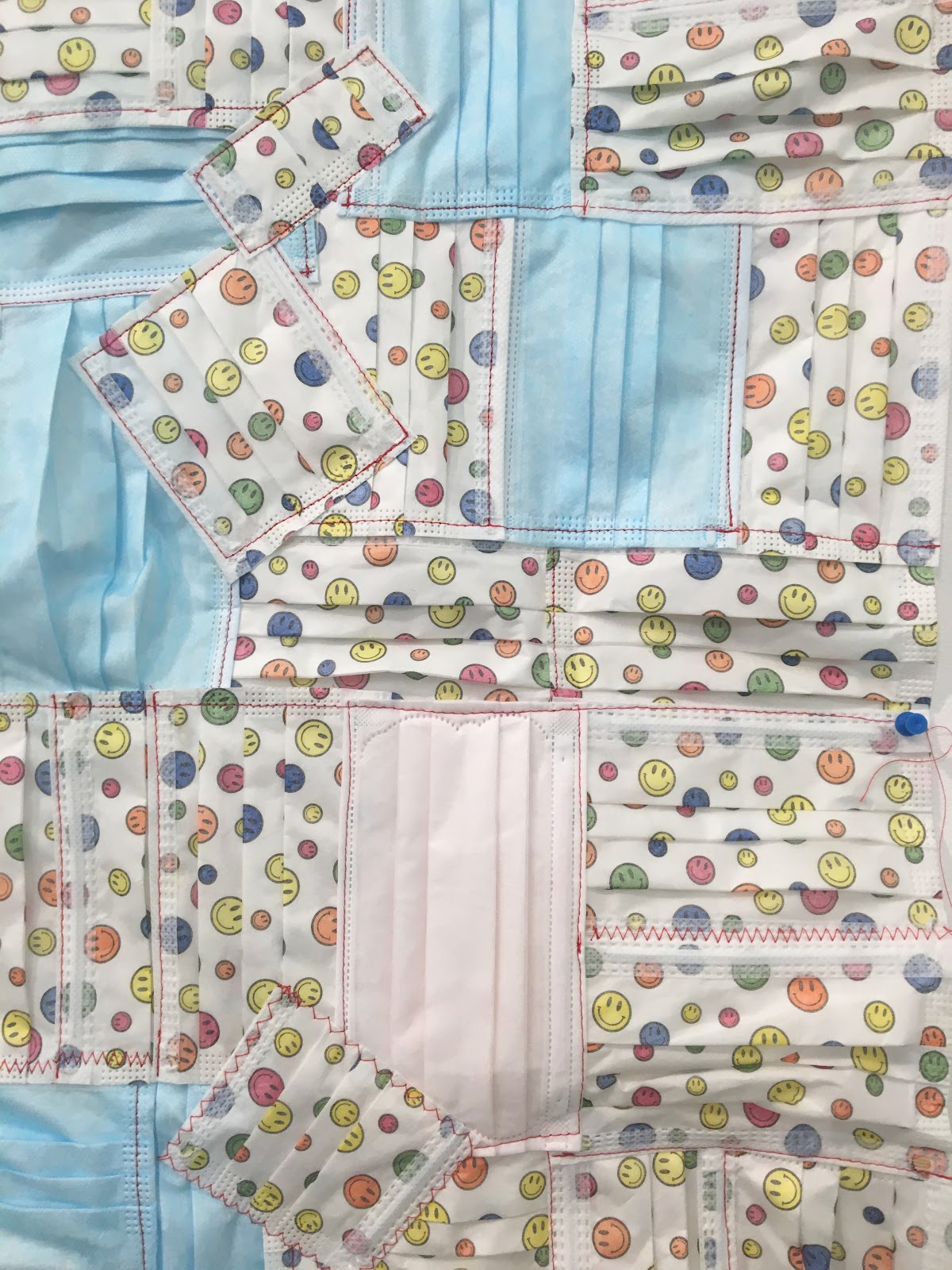 Rowan is a UCLA fine art student who specializes in photography. Her current work reuses the same medical infrastructure that she needs to survive. The mixed media art resonates even for those who do not require medical support. Rowan's artistic manipulation of these medical objects extrapolates the hidden meanings in the seemingly one-dimensional medical necessities. Vibrant colors of red and yellow splash against the cornea of viewers entering into the hospital-esque environment that Rowan cultivates in house shows and art galleries. Children's hospital masks she quilted together paint an honest portrayal of a child who grew up having to make hospitals home. When a patient grows up to be an adult, the quilted masks are replaced with the plain blue ones that society has now become so accustomed to seeing. The blue masks quilted in between the children's masks represent Rowan's transition into adulthood in the medical realm, where doctors have been resistant to treating Rowan as an adult because she has been in hospitals since she was a child and doctors still perceive her as one. In 2018 when Rowan was hospitalized for an infection, doctors failed to properly warn her of side effects of an auto-toxic medication that have led to her irreversible hearing loss. Their explanation was that they thought hearing loss was too rare of a side effect to mention. This revealed the undercurrent of transitioning from childcare to adult care. This failure to see Rowan as a valuable person and this failure to consult her strips opportunities for self-advocacy– another major misstep in the medical community. Rowan said, "The doctors would push what was most researched on to me, not taking into account my quality of life."
Rowan is currently on a breakthrough medication called Trikafta– the first gene therapy medication for cystic fibrosis; this has made her healthy enough to get pulled off of the lung transplant list, but she will be going back on the list in the near future. Cystic fibrosis has many different mutations and is hard to treat, from that perspective. In the age of Covid, I asked Rowan if she was afraid of infection. Her response was, "Well, yeah, if I get Covid, I'll die, but that aspect doesn't scare me. In 2018, I almost died from an infection. Now, I am more afraid that there won't be any beds available for others not infected with Covid, being someone who already has to frequent the hospital." But fear does not hold her back. During the Black Lives Matter protests, Rowan stood in solidarity, inside her car to remain safe and socially distant because she is a high-risk person. Rowan and her family, especially her mother, Samantha, are strong advocates for USPS, as the mail service is essential in delivering Rowan's medication.
If you are interested in learning more about cystic fibrosis or donating, here is a link to Rowan's Roses where all of the funds go to a CF foundation to help find a cure:
https://fightcf.cff.org/site/TR;jsessionid=00000000.app208a?team_id=95896&fr_id=7922&pg=team&NONCE_TOKEN=B3B0CF73F693ACD7056C4C65A10EB3C7
If you'd like to donate more directly to Rowan's personal medical bills, especially while she is saving up for a lung transplant, here is her sister's Venmo:
@Mikayla-OBryan