21st CENTURY RENAISSANCE: THE TOGFATHER'S REIMAGINATION OF LINGERIE PHOTOGRAPHY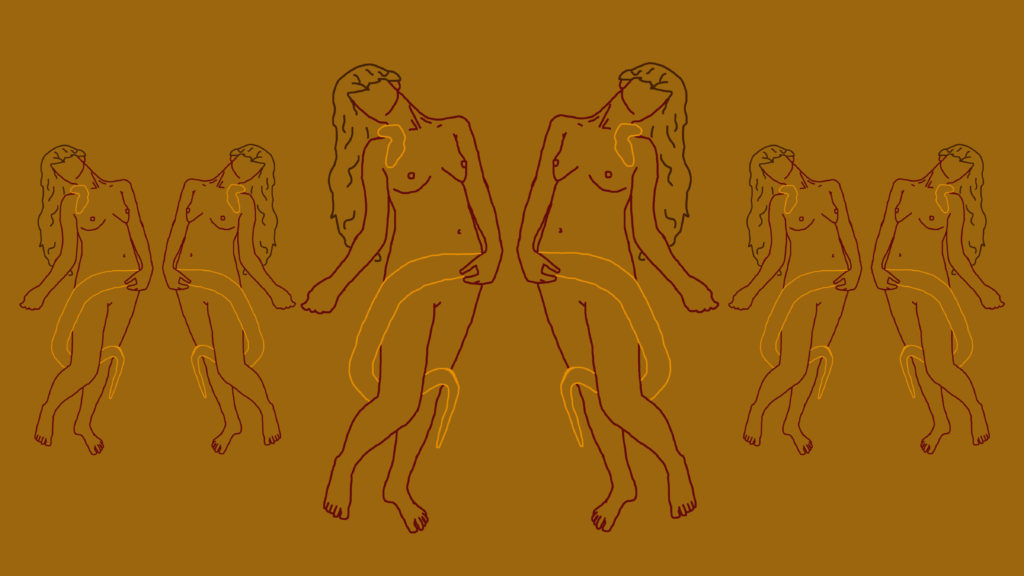 Saffron Sener
6 October 2019
The word "tog" means, simply, clothes. Specifically, cloak, robe, or bathing suit. For the Togfather, a rising-star photographer in the fashion/lingerie industry, this pseudonym makes sense. Yet, there exists a tinge of irony - his models are often partly or wholly nude. Sans clothes, sans togs.
But his popularity remains; the Togfather, or
@thetogfather
on Instagram, is fomenting a Renaissance in the lingerie industry. His revival of classical themes combined with his ability to parallel paintings in his portraiture has caught the eye of lingerie-enthusiasts, art lovers, followers of couture, models, and more.
Still, he is an enigma. In researching him for this article, I could find very little information, background, or else - he is London-based, specializes in nude, lingerie, and fashion photography, and is really named A.J. Hamilton. But beyond that, all is carefully hidden. There is no digital portfolio to access besides his Instagram, which boasts 201k followers and only 93 photos. And yet, it appears that his latest sort of work - his Renaissance of classical portraiture photography as combined with haute lingerie - dates back to January. Whether this has always been his style, it's hard to tell, due to the lack of an accessible portfolio. Only three of his 93 photos are not in this vein; his very first posts depict Jack Black as Nacho Libre, for some unknown reason.
At his core, the Togfather is a photographer. Specifically for fashion and lingerie, yes, but it is clear in his oeuvre that his talents and approach equally feature characteristics of the clothing, the model, and the medium - yet none compete for attention. He has worked with the likes of Sian Hoffman, Aubade Paris, Atelier Bordelle, Cecilie Bahnsen, Lovechild Boudoir, among many other brands; corsets and lace abound but are accented by tulle dresses and gold collars. Judging from the nature of his photos, the Togfather appears to be an erotic photographer, with many photos featuring naked bodies as their subject. As per his own words (pulled from his Instagram bio), he is "Reinventing Classicism" - harkening back to nude forms, intense contrasts, deep colors.
The models of his repertoire do represent some diversity, with a range in age and some representation of POC, but remain conventional in their sizing, gender, and able-bodiedness. His most notable model of late is Cora Harrington, founder and editor-in-chief of the widely popular blog:
The Lingerie Addict
. Harrington has a significant following across social media, with nearly 60k followers on Instagram and nearly 50k on Twitter, and is the author of 2018 book
An Intimate Detail
. Most importantly, though, she is a lingerie expert committed to opening the industry up to everyone
"no matter their size, race, sexuality, age, ability, or gender"
.
This shoot is, arguably, his most popular in recent months, gaining traction on Instagram, Twitter, Tumblr, and across the blogosphere. Harrington paired each photo with a quotation, from creatives like William Shakespeare and Wang Xiaoni. You see darkness, you see light; the Togfather knows how to illuminate the human body and accentuate its beauty. It feels like each picture is leaking starglow, it feels gilded gold and sepia, like something caught in between a photo and painting. There is a foggy dreaminess to the shoot, with light flowing from Cora in an angelic, often halo-like way (and in some photos, there even is a halo). One can look to
his capturing of Harrington in the "Cassiopeia" robe by Harlow & Fox
. Paying perfect attention to the piece
and
the model, the Togfather likens Harrington to an angel, with the flowing, beaded sleeves as her wings and the light beneath her hair a halo.
Looking to his entire body of work (as available on
his Instagram
), though, we see a consistent calling upon Classical work. Parallels to Caravaggio are clear, with dark backgrounds, bright light on the subject, and an overall dramatic and contrasted mood. Roman-esque features abound, with wings on the head or back, a reliance on gold pieces/accents, crowns of leaves, and more. One set of photos is even titled
Laocoon's Daughter
, referencing the Trojan priest and his incredibly famous Roman statue and reflecting this in her appearance as a marble statue.
He often juxtaposes painted backdrops with real surroundings, playing with ideas of reality and artificiality. At large, though, the Togfather captures ethereality. He communicates warmth and coldness with ease, and the models often appear to truly glow. He secures the beauty of the human form in stillness. Dreamy objects like cotton-like clouds, bouquets of flowers, snakes, pomegranates, rose petals, satin, and lace surrounded shimmery, glistening bodies.
With almost-mainstream popularity less than a year old, the Togfather is a young, but incredibly talented, star. He pushes the bounds of his medium and illuminates models in ways rarely achieved. And he does all this under a cloud of mystery similar to the clouds encompassing so many of his models. I think the puzzle the Togfather bolsters his reputation - we don't know where he came from, where he'll go, what he's done or doing. Yet, he carries this mystique of secret fame; he has no portfolio yet is considered "legendary" in a position of power and talent so intense he is "Reinventing Classism." For him, Instagram serves as a digital museum, where he curates his own gallery of work and reach audiences far and wide, undeterred by spatial distance. Rather than lift himself up to an unreachable standard, the Togfather makes himself accessible on this free platform, keeping his profile public and often conversing with commenters. By concealing so much of his identity, he maintains separation from the wider world, reinforcing his fabled persona and bringing mystique to his work.